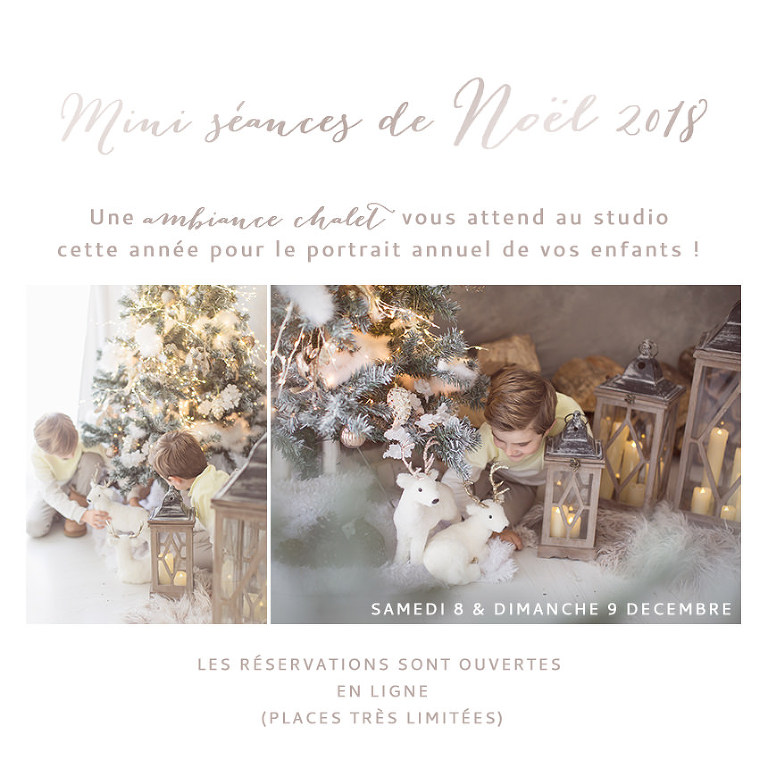 Comme chaque année, Noël arrive de nouveau au studio pour les portraits annuels de vos enfants ! Un magnifique décor chaleureux vous attend dans l'ambiance « chalet » ! Un petit aperçu en vidéo : https://www.youtube.com/watch?v=glej2wNilJs
Du bois coupé, des pommes de pin, un sapin enneigé aux tons blancs et dorés, des lanternes illuminées, des bougies (LED, en toute sécurité !), des animaux et une table avec tout ce qu'il faut pour préparer des petits gâteaux de Noël en famille ! 
Oui, vous lisez bien, deux superbes nouvelles pour cette année ! Pour la première fois, une activité est proposée pendant vos séances pour que tout le monde s'amuse et pour que vos portraits soient le plus naturels possible. Aussi, après de nombreuses demandes, les parents sont invités à se joindre aux enfants…sous une seule condition…être en tenue assortie 🙂
// It's that time of the Year ! Christmas minis are back in the studio for your holiday portraits ! We have a beautiful « cottage » ambiance awaiting for you in the studio ! Wood & pine cones, a snowy Christmas tree mixing white and golden tones, sparkling lanterns, candles (LED for children to be safe!), animals and a table full of everything one need for preparing some little Christmas cookies with your loved ones ! Yes, you are reading this right ! For the first time ever we have an activity running here during our sessions so you can all have fun together and we can capture beautiful candid portraits. Also, many of you requested pictures including parents and we decided to offer those this year as well. Matching outfits are a must !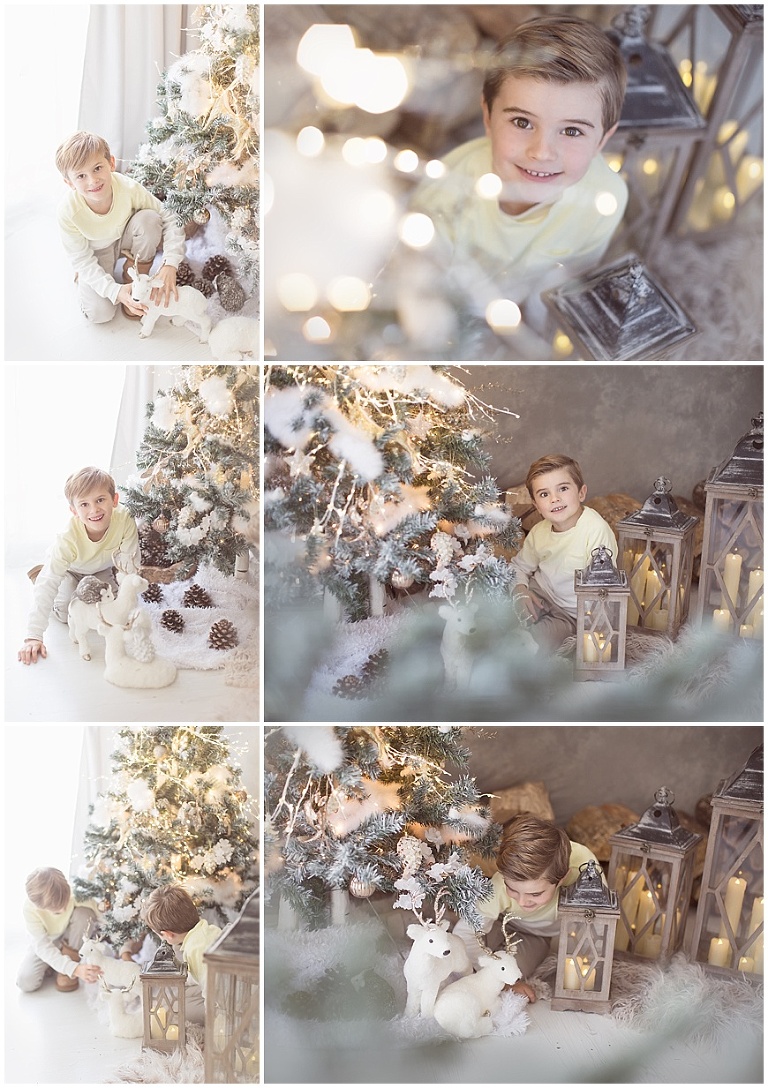 Le tarif (79 euros) comprend la séance de 20 minutes avec notre décor spécial ainsi que 2 portraits numériques en téléchargement. Le choix des images se fera directement à la fin de votre séance et vous aurez la possibilité de choisir des images supplémentaires si vous le souhaitez (25 euros/unité). N'oubliez pas d'apporter votre chéquier/espèces pour régler vos éventuelles images supplémentaires. Vos images numériques vous seront livrées sous une semaine.
Les participants doivent venir en tenue et prêts pour la séance. Habillez vous et vos enfants de façon coordonnée (couleurs assorties). Pour la mise en scène de cette année, nous vous recommandons de la maille et/ou de la fourrure dans les tons beiges & marrons, du taupe etc.
Ces mini séances privées sont destinées à tout le monde (bébés, enfants & leurs parents, futures mamans, couples…), avec un maximum de 3 enfants/séance et durent 20 minutes. Si vous avez plus de 3 enfants, nous vous invitons à réserver 2 créneaux successifs afin d'avoir le temps de photographier tout le monde.
These little sessions are for everyone (babies, children & their parents, moms to be, couples etc.). Maximum 3 children per session. For more than 3 siblings please add another session to your cart which will allow us enough time to photograph all your children. The price (79 euros) includes a 20 min session and two high resolution digitals for you to download. You will choose your images directly at the end of your session and you will be able to add supplementary images if you would like to (25 euros/image). Your digital images will be delivered in one week. You & your children must be ready and wearing your shooting outfit. Please choose their outfits carefully in matching colors. For this year's decoration, we suggest knits & furs in beige, light brown and taupe colors.
RESERVATIONS :
Si un créneau s'affiche, il est disponible. S'il ne s'affiche plus, il a été vendu. Faites au plus vite si vous voyez un créneau qui vous correspond. Les créneaux partent vite chaque année.
LES RESERVATIONS SONT OUVERTES SUR CES LIENS :
SAMEDI 8 DECEMBRE 2018 : https://deboradeulofeuphotography.bigcartel.com/product/08-12-2018-mini-seance-noel
DIMANCHE 9 DECEMBRE 2018 : https://deboradeulofeuphotography.bigcartel.com/product/09-12-2018-mini-seance-photo
Pour réserver une séance, ajouter la simplement dans le panier et procédez au paiement.
BOOKINGS :
If you can see a time spot, it's available. If you can't see it anymore, it's sold. Please grab your spot as soon as you can in order to avoid any disappointment. Spots sell out very quickly every year.
BOOKINGS ON THESE LINKS:
SATURDAY DECEMBER 8th : https://deboradeulofeuphotography.bigcartel.com/product/08-12-2018-mini-seance-noel
SUNDAY DECEMBER 9th : https://deboradeulofeuphotography.bigcartel.com/product/09-12-2018-mini-seance-photo
To order the, simply add this product to your cart and proceed to payment.
LIEU/LOCATION :
Au Studio, 23 avenue Roger Salengro, 13830 Roquefort la Bédoule (proche de Cassis, Marseille, Aix). Parking a proximité.
DATES :
Samedi 8 & dimanche 9 décembre 2017
RENSEIGNEMENTS :
06.16.16.40.05